Storefront Glass Replacement Services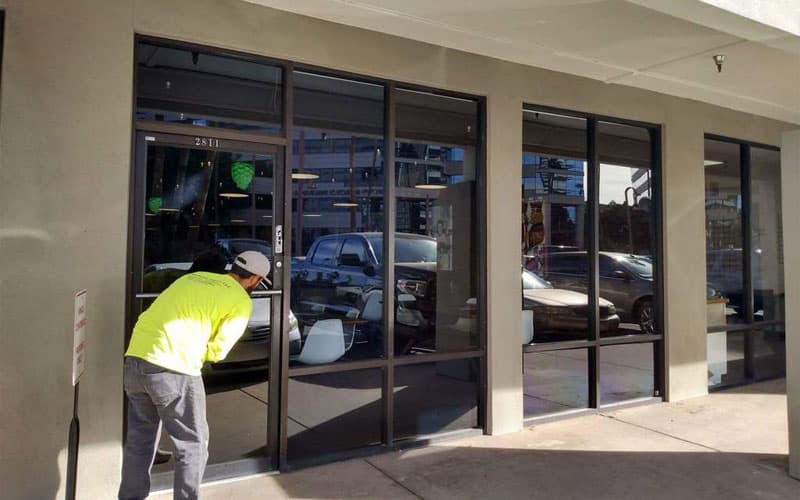 Storefront Glass Replacement in Manhattan, NY
As a property owner or business owner in Manhattan, damage to your storefront windows can significantly affect your business. Not only does this damage affect the safety, security, and structural integrity of your storefront, it can also deter customers. It may even make customers think that your store is no longer in business. If there is any damage to your storefront glass, you should seek quality, reliable contractors for storefront glass replacement or storefront glass door repair so that your business once again looks attractive, functional, and well-maintained. At Window Repair US., Inc., our experienced glass repair contractors can provide swift, affordable storefront glass replacement throughout Manhattan, NY. We offer free estimates and can repair or replace storefront glass and storefront glass doors quickly, easily, and without damage to the surrounding building. To learn more or request a free estimate, just call us today.
Storefront Glass Repair vs. Storefront Glass Replacement
Our experienced contractors can visit your business and determine if it's more cost-effective for you to repair or replace your storefront glass. If the glass has suffered minor damage that doesn't affect its overall structural integrity or security, it may be best to repair the damage rather than replace the whole window. Minor damage includes dents, dimples, small chips, trouble opening or closing the window, frame damage, or cracked caulking. If the window has significant damage, then storefront glass replacement is more beneficial and cost-effective. You should consider storefront glass replacement if your window has a broken seal, visible damage, large cracks, structural damage, huge chips or pieces missing, or any damage that affects the security of the glass.
Ultimately, the type of repair or replacement we recommend may depend on the extent and location of the damage, type of window, window material, age of the window, previous repairs and maintenance, and overall aesthetics of the window.
Benefits of Storefront Glass Repair
Storefront glass repair improves the safety, security, and aesthetics of your business. Timely storefront glass repair can also offer these benefits:
Improves energy-efficiency
Enhances security and safety
Elevates aesthetics and curb appeal
Gives a good first impression to customers
Sometimes more cost-effective than replacement
Cost of Storefront Glass Repair
The cost of your storefront glass repair or storefront glass replacement will depend on a number of factors:
Size and type of window
Type of glass
Extent of damage
Type of damage
Type of frame
Brand and manufacturer of glass and window components
We always provide accurate assessments and estimates of glass repair and replacement costs before we begin work. If you're concerned about the cost of storefront glass repair, ask us about our financing options to see if you qualify.
Choose Window Repair US, Inc.
At Window Repair US, Inc., we offer same-day service and customized glass repairs throughout Manhattan and New York. Our experienced, knowledgeable contractors are highly skilled, efficient, and can provide expert guidance and instruction throughout your repair or replacement job. We use only the highest quality materials and construction techniques so your window will last longer and look better! We also offer free estimates and assessments so you know exactly what to expect before we begin our work.
Need Storefront Glass Repair in Manhattan, NY? Call Today!
If you need storefront glass repair in Manhattan, NY or the surrounding areas, call us today at Window Repair US, Inc. We have a skilled, friendly team of contractors committed to providing fair, speedy, and reliable services to business and property owners throughout New York. We provide quick, accurate assessments and estimates for our services. We offer excellent communication throughout each job, and exceptional customer service. To learn more or to schedule an assessment, call us today or fill out our online contact form.
Need your window repairs done right?
Join thousands of satisfied customers with Window Repair US Inc. Call us today!
Storefront glass repair improves the safety, security, and aesthetics of your business. Timely storefront glass repair can also offer these benefits:
Improves energy-efficiency
Enhances security and safety
Elevates aesthetics and curb appeal
Gives a good first impression to customers
Sometimes more cost-effective than replacement