Storefront Glass Replacement Services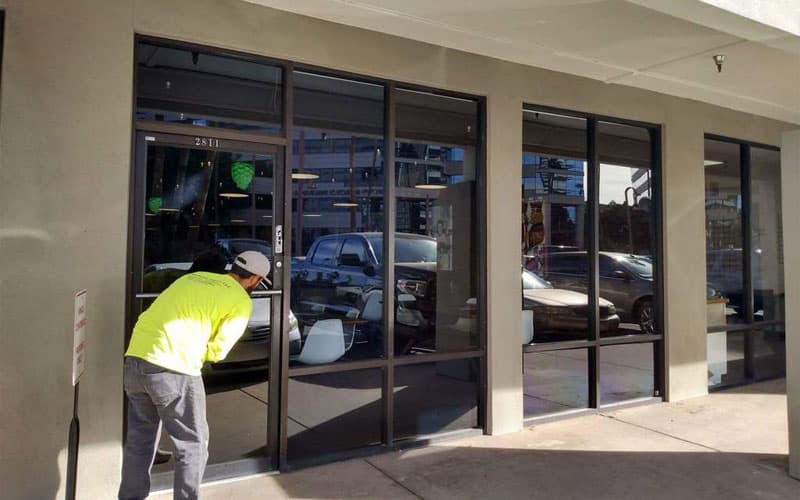 Storefront Glass Replacement Services
Have you ever experienced a late-night break-in or a vehicle accidentally damaging your storefront? If that is true, you need not worry, as Window Repair Us would offer you an emergency and same-day board-up service to repair the damage and offer the safety of your property. At Windows Repair Us, we are experienced in building commercial storefronts and installing glass windows for retail stores, restaurants, office buildings, public infrastructures, and many more.
Benefits of Storefront Glass Repair
We have a team of experienced professionals working with us who have the necessary knowledge of commercial storefront metal systems to deliver customized solutions to your problems. Analyzing the type of repair, we would suggest contacting your home warranty company to check if the company can recover those storefront glass repairs. Along with commercial window glass replacement storefronts, we are also skilled in installing glass railings, glass balconies, and glass staircases in the interiors of homes, offices, and malls. Our skilled glaziers use modern tools and machinery to repair the damaged and unwanted parts of the window and replace them with a new fresh look. 
Need your window repairs done right?
Join thousands of satisfied customers with Window Repair US Inc. Call us today!
Frequently Asked Questions
What services do window and glass companies offer?
Window and glass companies offer a range of services, including window installation, repair, and replacement, glass repair and replacement, custom glass solutions, and window and glass maintenance and cleaning.
How often should I have my windows and glass service?
The frequency of window and glass servicing depends on a number of factors, including the age and condition of your windows and glass, the level of use and exposure to the elements, and your personal preferences. It's generally recommended to have your windows and glass inspected and maintained annually to prevent problems from developing.
What should I look for in a window and glass company?
When selecting a window and glass company, it's essential to look for one with experience, expertise, and a proven track record of providing quality service and products. You should also look for a licensed and insured company that offers competitive pricing and has positive customer reviews and references.
Can window and glass companies provide emergency services?
Many window and glass companies offer emergency services, such as glass repair or board-up services, following a break-in or severe weather event. Choosing a company that provides 24/7 emergency services is essential to ensure prompt and reliable assistance when you need it most.
What are the benefits of regular window and glass maintenance?
Regular window and glass maintenance can help extend the life of your windows and glass, prevent problems from developing, and improve the performance and energy efficiency of your home or business. It can also help enhance the appearance of your property and increase its resale value.