Premium Awning Windows in Manhattan, NY
Awning Window Installation and Replacement in Manhattan, NY
Not only do awning-style windows provide access to fresh air, but they are also known for their water deflection. They are an excellent option for ventilating your home in any weather condition. They slant as they open, deflecting any snow or water that may land on the glass. They have multiple opening mechanisms, meaning their placement is versatile in your home. Awning windows can be installed high on your walls for more privacy, above doors, or on a more reachable level for easy access.
We provide quality awning window replacement and repair services in Manhattan, NY, and work with premium hardware such as Truth, Silverline, Caldwell, Better-Bilt, Hurd, EFCO, Graham, PGT, Traco, Norandex, Alenco, and Acorn. We have a five-star rating on HomeAdvisor and Google for obvious reasons. We offer various professional services, including broken window replacement, double pane window repair, storefront window replacements, and window component repair. Professionalism and customer satisfaction are our top values, and we show these values through our craft.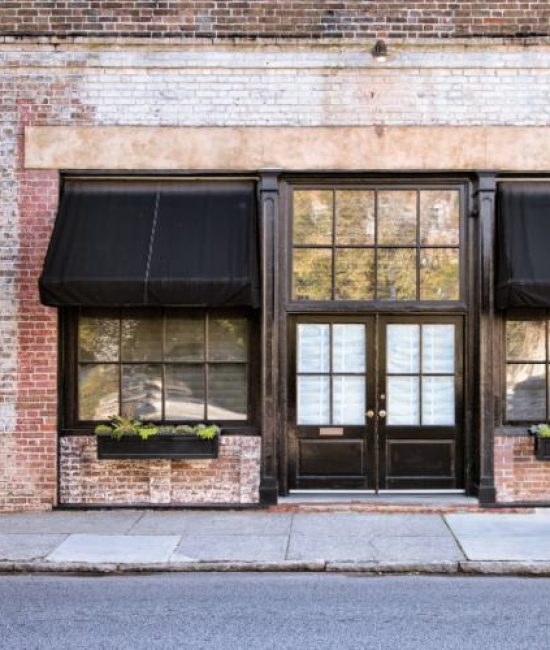 What Are Awning Windows?
Awning windows are hinged at the top and swing outwards from the bottom. The way they slant as they push outwards deflects water, making them an excellent choice for fresh air on rainy days. They are helpful in any room containing significant amounts of moisture, such as bathrooms and kitchens. Awning windows can also be installed on fixed windows, bringing in more light and air. They are generally unlocked with a handle or hardware and require minimal maintenance. Formed from materials such as vinyl, aluminum, or clad wood, these windows promise longevity and security. They are also great for temperature regulation and can serve as air conditioning alternatives. They can be customized in size and color for both interior and exterior awning windows.
Variations of Awning Windows
Push Out Awning Windows: These windows come with a handle that can easily be turned and pushed outwards to open. This is common in awning windows that are easily accessible and not placed high on a wall or above a door. The handle cannot be locked onto like crank open awning windows, making accessible placement key.
Crank Open Awning Windows: These windows feature a handle turned to open and close the window. Some of these come with a pole that can be used to reach windows placed high up on walls or above doors, allowing easy access to high-up placements.
Oversized Awning Windows: Most awning windows range from 2 inches to 3 feet in width and 20 inches to 7 feet 8 inches in height. Larger options than these are available for more views and airflow, and they can be offered as large as 8ft. in length or height. Awning window sizes can be customized to your needs, whether you're looking for a small or large addition of fresh air and light to your home.
If you have an awning window that needs repair, it's important to address the issue as soon as possible to prevent further damage and maintain the functionality of the window. Here are some steps involved in awning window repair:
Identify the problem – The first step in repairing an awning window is to identify the problem. Common issues include broken or damaged hardware, a damaged frame or glass, or issues with the opening and closing mechanism.
Remove the window sash – To access the damaged parts of the window, you will need to remove the window sash. This involves opening the window and releasing any locking mechanisms, then carefully removing the sash from the frame.
Assess the damage – Once the window sash is removed, assess the damage to the window and determine the best course of action for repair. This may involve replacing damaged hardware or parts, repairing the frame or glass, or lubricating the opening and closing mechanism.
Replace damaged parts – If there are damaged parts, you may need to replace them. This may involve ordering replacement parts from the manufacturer or purchasing them from a hardware store.
Reinstall the window sash – Once the repairs are complete, the window sash can be reinstalled. Make sure all the hardware is properly secured and the window opens and closes smoothly.
Test the window – Test the window to ensure that it is functioning properly and that any issues have been addressed.
Contact Window Repair US Today
Window Repair US has over a 99% customer satisfaction rate, proving our dedication to our craft. We have veteran experts on duty to ensure your windows' proper installation and quality. We have worked with thousands of customers across New York City and have become one of the most trusted names in the business. Our process for your next installation begins with a consultation, then the submission of a proposal that would best fit your needs. We always take the time to speak with our customers to ensure we cater to your specific needs. Contact us today to schedule a consultation; We look forward to serving you!
Need your window repairs done right?
Join thousands of satisfied customers with Window Repair US Inc. Call us today!